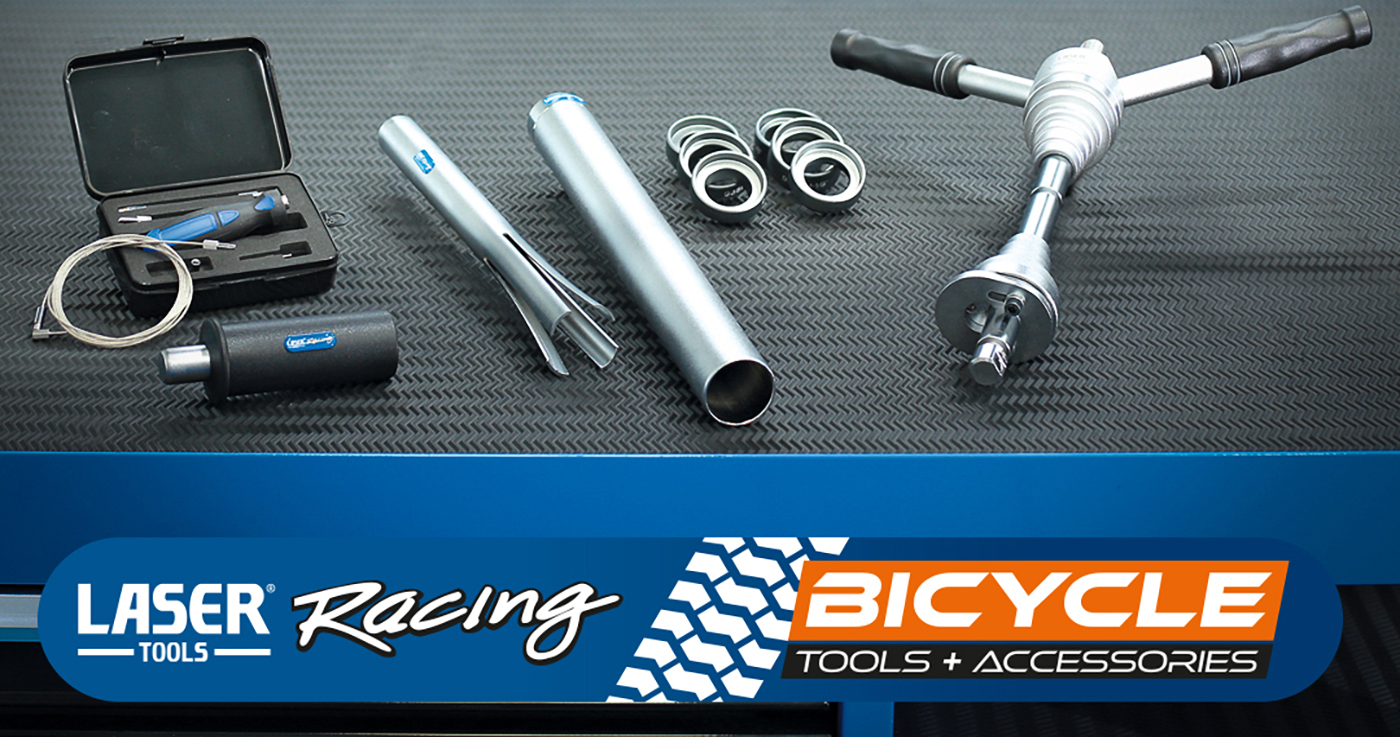 Dedicated bike frame and fork tools from Laser Tools Racing
Recent additions to the Laser Tools Racing brand bike tools and accessories range are a series of dedicated frame and fork tools suitable for installing and removing headsets, threading cables through internally routed frames, and checking dropout alignment. Pictured here are an internal cable routing tool suitable for installing brake and gear cables (part number
8174
), a start nut setter for installing a star-fangled nut into a fork steerer (
8189
), a headset cup removal tool (
8167
), a crown race setter (
8201
) and finally a headset press (
8196
).
The
8174
internal cable routing tool is used when guiding new cables through an internally routed frame — this kit uses magnets to make light work of a task that can be both time-consuming and frustrating. It comes supplied with adaptors to fit inner gear and brake cables, Shimano Di2 wires (e-Tube cables), outer gear and brake
housing, and hydraulic brake lines.
The star nut setter (
8189
) is required for installing new star nuts into threadless fork steerers to the required depth and at a straight angle first time. As it is for use with a dead blow hammer, the handle has been designed to help protect the user's hand.
The
8167
headset cup removal tool allows for the quick, easy and safe removing of bearing cups from a bicycle frame. Designed to slide through the frame until the sprung end engages onto the top of the cup allowing for a simple hammer blow to remove it without causing damage.
The crown race setting tool (
8201
) is used for the installation of a fork crown race, the lowest part of a headset. Ensures the race is correctly fitted and set, without causing damage to either the forks or the crown race and bearing surface.
The headset press (
8196
) allows for the quick and easy installation of headset cups and press-fit bottom brackets, without risking damage to the frame. The stepped cup guides ensure the cups are correctly supported and sitting straight when being pressed into the frame. The handles have a cushioned grip and the fine thread
makes it smooth to turn and also allows for precise adjustment when applying the force necessary to press the cups into the frame. It also features a quick release system so that it does not have to be fully unwound to be removed from the frame.
The range is available to order now from your local Laser Tools dealer.
---